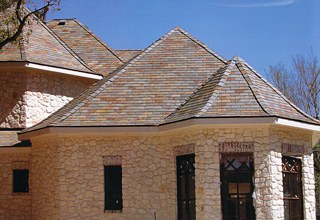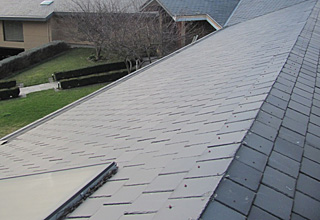 Why you should choose slate roofing … the practical reasons.
Natural slate roofing will often last for the expected life of the building.  Sure, the initial cost is more, but then you do not have to replace it 2 or 3 times during the life of the building.  Even in the harsh marine environment slate will last over 100 years.  The first cost is the last cost . . . . can the roofing materials you use compare?
Natural slate is colour stable.  Each batch of slate has it's own individual character and texture permanently formed by nature.
Natural slate roofing is relatively light compared to tiles giving savings in roof structure costs.  Slate, at 30kg/m2, is only 70% of the weight of roofing tiles.
Slate is non-porous (max 0.3%) and allows a faster flow-off of water from a roof than any other comparable form of material.
Natural roofing slate is not affected by extremes of temperature and is therefore suitable for any climate.
Natural slate roofing has a very high resistance to both acid and alkali chemicals. Roofing slate is completely fire resistant, and is not affected by fungus, moss, insects or birds.
Natural roofing slate can be laid to roof or vertical slopes and is sufficiently versatile to incorporate sharp designs, angles and pitches and withstand exposure to the elements.
Natural slate roofing has a proven method of application and fixing which has withstood the test of time. Wind tunnel tests have shown that slates fixed with nails or hooks will withstand winds up to 250 km/hr!
With physical properties as good as this, it is no wonder that slate roofing is the first choice for so many home owners, architects and builders.  Using roofing slate on your home, properly installed by craftsmen, means you'll have the finest roofing material available.