Asphalt shingles…one of the most popular shingle roofing materials in the world.
Now you can have the slate look at a fraction of the price. Asphalt shingle roofing is used on over 75% of American homes, and they have been proved for their ability to withstand the most extreme types of weather conditions for decades.
Here are some of the features or benefits of asphalt shingles when used for roofing…
The historical elegance of timeless roofing design using asphalt shingles.
Style in a range of living colours.
Light-weight for cost savings in building design – and easy to install!
Class A fire rating to withstand severe exposure to fire.
A closed roofing system set on durable 12mm or 15mm Bond plywood
Reduced penetration of wind, dust and vermin.
No loose mortar, broken tiles or rust.
Entire roof structure 100% braced by plywood substrate.
Not affected by salt water, acid or alkalines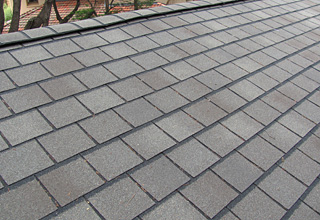 A stunning 'street appeal' that comes with a strong structural base.
This roof style stands out from surrounding suburbia and adds considerable appeal to this often neglected part of the house. A roof is over 50% of the external surface area of a home. By having a good looking roofing covering, this adds huge street appeal.
However, the benefits don't just stop at the beautiful looks. Shingle roofs are lightweight and extremely strong, benefiting from the structural plywood base.
Walking on your asphalt shingle roof is like walking on the footpath because of the plywood base.  This plywood base makes the roof impervious to hailstorms. Jobs like cleaning out gutters, installing solar etc… become very easy.
A complete roofing system that is made up of …
Simple installation with a plywood base creating a fully braced roof structure.
A virtually impervious barrier of plywood, underlayment and a double thickness of shingle to resist the elements.
Incorporates a ventilation system to protect the roof structure from heat and moisture damage and to maximize the performance of the shingles.
Total weight of plywood, underlayment and shingles is approx 20kg per square metre.
Superior protection from impact, hail and storm damage.
What are asphalt shingles made of …
Class A asphalt shingles have a glass fibre base that is coated with specially formulated asphalt. The special asphalt provides the ability to remain stable under severe service conditions.
A surface layer of weather resistant mineral granules shields the asphalt coating against the sun's rays. These granules add colour to the shingle and assist in fire resistance.
Simple fixing of each asphalt roofing shingle sheet with galvanised nail or staples to the plywood base. The overlapping shingle is sealed to the shingle below by factory applied thermoplastic adhesive material. This is activated by the sun's warmth.
Complies with the American Society for testing Materials and Underwriters Laboratories Inc, for a Class A Fire and Wind resistance when applied in accordance with instructions.
Our 'Highland Slate' 4 tab shingles which are 915mm long x 455mm wide come with a 50 year Pro-rated Manufacturer's Warranty and have a 110mph Wind Rating.