Natural slate roofing has no equal … in appearance or performance.
There are many imitators, but none come near to natural slate roofing for durability, quality or appearance.
Slate roof tiles have been used on roofs for centuries – on the humblest cottage to the most significant palace. Architects, builders and home owners today are discovering the advantages of having a slate roof. There is an ever growing interest in this type of roof covering.
Whilst it is important to use an 'everlasting' material, it is equally important that the product is installed correctly, otherwise it will never realise it's full potential.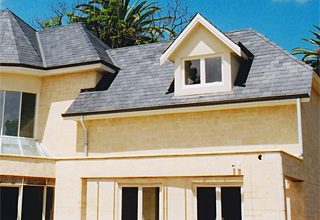 A roofs influence on building design.
The design of a roof on a building is critical to its final appearance.
Many a building has fine doorways, windows and walling which gives it richness and interest. However, a well designed, carefully made roof does far more to stamp a building with a quality which is at once more pleasing and satisfying, although less definable.
Indeed, looking at a nicely proportioned building, one realises that a well shaped and pitched roof is what gives it its character. It is also a fact that, irrespective of the material used, roofing will always last longer the steeper the pitch.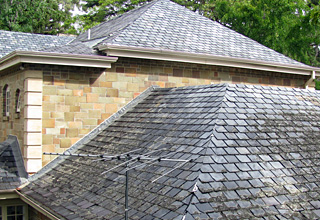 The charm of hand craftsmanship.
Slate is the only natural hand made roofing material. Indeed, it is a natural product, hand fashioned. Two roofing slates can no more be exactly alike in texture than can two leaves from the same tree.
Therein lies its charm. In this day of machine products, a slate roof with its air of hand craftsmanship has become the distinctive, even 'distinguished' feature of the building.